---
[Home]
---
Hike and Bike Page
For information on bicyles on BART and some bicycle advocacy groups click here.
Central Contra Costa County has an extensive network of paved urban trails. We will be adding trail locations and reviews periodically These urban trails are generaly are on old railroad rights of way or alongside of irrigation canals, and so usually have modest grades. These trails are shared by hikers, joggers, pets, strollers, pearambulators, and sometimes horses, so please observe rights of way and exercise caution.
For wildland hiking precautions click here (also visible from each page)
Click here for a regional map with East Bay Regional Parks highlighted (76kb, external link).
---
The greater mount diablo area includes parklands, demonstation farms and open space maintained by the East Bay Regional Parks District and by the Cities of Walnut Creek and Concord. There are many fascinating and accessable hikes in these areas. Some of these are:
Juniper Campground to Summit.

Two and one half miles of varying steepness and footing with varied terrain and spectacular views.

Eagle Peak

Mitchel Canyon
Trails of the Mount Diablo foothills:
Shell Ridge Open Space.

Sugarloaf Open Space.
---
Other trails
Outside of Mount Diablo proper are a number of regional parks and open spaces. These include:
Briones Park.

Lafayette Ridge.

Las Trampas Wilderness.
---
Other hiking areas which require an East Bay Municipal Utilities District hiking permit include:
Rocky Ridge.

Buckhorn Valley.

Briones Resevoir.
---
Bicylists see also Bike Trails, an electronic magazine (external link).(If you have less than an ISDN or better line you should probably turn off your graphics. Looks pretty, but rather unreadable and oh, so slooooowwww.)
---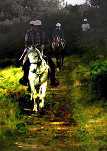 On trails, yield to horses.
For a page on East Bay Regional Parks assembled by a class at Saint Mary's College, click here. This contains information extracted from a EBRPD brochure.
You may also be interested in the Bay Area Orientering Club (external link)
If you have comments or questions, mail me with subject "HikeAndBike" at the address shown below in the graphic (this is to foil spambots, net spiders that collect e-mail addresses for mass mailings). Note that our politicians won't stop spam (they could) - why not?
FIGHT SPAM!<\H3>














---

[Home]