---
[Home]
[Hike and Bike]
[Summit Views]
[Interpretive Center]
[Pearl Harbor Day]
---
The Mount Diablo Information Page
Copyright 1996 by Leonard G. Barton
Brought to you as a community service by your Tenth Congressional District Democratic Clubs.
---

Mount Diablo State park is open from 8:00 AM until sunset. Campsites and certain picnic areas are available by reservation.
Mount Diablo offers a rich variety of landscapes, views, hikes, and natural studies. The peak is 3850 feet above sea level. From its top you can see much of northern California, from the Faralon Islands in the west to the Sierra Nevada mountains in the east. There is always a lot to see, even in bad weather, but the best distant views are found on a sunny Winter day after a storm has cleared the air. There can be strong chill winds at the top under these conditions, so bring appropriate clothing.
On rare occasions the park will be closed after a snowstorm. More often only the upper roads are closed due to ice and so it is possible to drive a good way up and then hike the remaining portion. Please see Wildland Hiking Precautions if you plan to hike.
---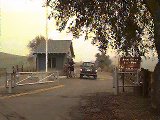 Automobile Touring: There are two entrances to the park that lead to the top. From highway 680 near Danville, get off at Mt. Diablo road and proceed East. From California Street in Walnut Creek, take Ygnacio Valley road two miles east past John Muir hospital to Walnut Avenue and take Walnut two miles to Oak Grove and turn right. You may also start at Ygnacio to Oak Grove and procede southeast. If you find yourself going over the Lime Ridge open space, you have gone too far on Ygnacio. Take Oak Grove to Northgate road. Left on Northgate will take you to the park entrance. During busy days, fees are collected at the gates ($5.00 per automobile, $12.00 for overnight camping). At other times you will have to pay further up the mountain at the ranger station where the two entrance roads meet.
---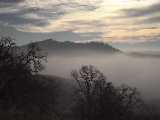 There is often good weather on the mountain in the Winter when heavy tule fog casts gloom in the valleys. This picture was taken January 7, 1996 at an elevation of about 1300 feet, just after exiting the fog.

From the ranger station at the junction of the north gate and south gate roads you can proceed up the mountain to a large parking area and view site near Juniper campground. From Juniper there is a two and one half mile hike to the top.

You may also drive several more miles to the large lower parking lot near the top. It is only a short hike to the top from this point. There is also a scenic, level and well maintained trail around the north and east sides of the peak with diagrams to assist you in locating distant landmarks and self guiding tour markers indicating geologic features. On a clear winter day you can easily see Mount Lassen, the southernmost peak in the Cascade range, as well as most of the Sierra Nevada Range.

When the park is not too crowded you may drive all the way to the small parking lot at the summit, but you will get much more of a feel of the mountain with even a short hike.
---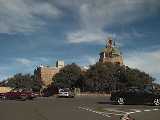 At the summit is a native stone building built by the Works Progress Administration (WPA) in the 1930's. This building includes a small nature study and historical museum operated as the Mount Diablo Interpretive Center. This center includes static and interactive displays of the geology of Mt. Diablo and a number of mounted specimens of plants and animals displayed in naturalistic settings, as well as cultural and historical information.

Atop the building is an observation deck and a tower housing an aircraft beacon. This beacon was used to guide aircraft flying into the bay area before World War II. It was removed from service on December 7, 1941 (Pearl Harbor Day), as a wartime security measure. The light was later refurbished and is now operated for one night each year on Pearl Harbor Day. On that day there is also a sunset memorial service, with survivors of the attack present. This is the one of the few days a year that you may stay late enough at the top to see the sunset (or the mountain's shadow stretch across the valley) without having to stay overnight. Click here for a ten picture series of the shadow's movement.









There are several astronomy nights during the spring and summer when you may spend an extended evening on the mountain and may view celestial objects through telescopes provided for your use by the Mount Diablo Observatory Association.
For some more views from the summit click here.
---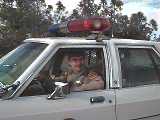 Traffic laws are strictly enforced.
These roads are shared by bicyclists, walkers, and wildlife. The speed limit within the park is 25 mph.
No Alcoholic Beverages.
Alcoholic beverages are prohibited within the park and within most parklands surrounding the park.
Pet Restrictions.
If you bring a pet into the park you must present proof of vacination against rabies. A current county dog tag is not enough, bring the paperwork that your veternarian provided. Pets are not allowed on trails or fire roads and must be leashed at all times. Additional restrictions may apply.
Park Information Recording:
Recorded information concerning gate open times, road and pet restrictions, and events is available at 1-925-837-2525
Weather at the Summit:
There is an automated weather station that will report wind and temperature within a 15 minute period. Call 1-925-838-9225. (Don't forget about the wind chill factor. )
---
For wildland hiking precautions click here.
---
External links:
Mountain biking in this region
Save Mount Diablo (Association)
Panoramic and stereo images of Mount Diablo by master photographer Stephen Joseph. Includes information on purchase of prints and CD-ROM
---
[Home]
[Hike and Bike]
[Summit Views]
[Interpretive Center]
[Pearl Harbor Day]